From Decks to Patios, Innovative Ideas for Transforming Your Backyard
For many homeowners, the backyard is an escape. It is a place to experience the great outdoors right outside their doors. For this reason, your backyard should be as heavenly as possible. However, where do you even begin with turning a dull backyard into an oasis, especially after, say, a disaster?
Know How Much You Can Spend on Your Oasis
Transformation isn't cheap. However, it doesn't have to break your bank account either. Set a budget. This is one of the most essential things to do when creating an outdoor oasis. Setting a budget will help you in controlling the cost. It will also lead you to buy products that are appropriate for your transformation. 
Next, decide on a deck or patio, or both. Building a covered deck and/or patio is the first step to fulfilling your outdoor dream. It can be a rewarding experience. A patio and deck is a perfect place to relax, entertain and socialize. 
Covered Decks for Transforming the Backyard
Covered decks come in all shapes and sizes. You can install a covered deck over your patio that is simply straight or get creative and opt for one that looks like a pagoda, or just about anything in between. The ideas are limitless. 
Covered decks don't just cover patios. You can put one over your barbeque, your hot tub or even over your backyard fire pit. What about a covered deck over your outdoor lounge area that covers your outdoor furniture? Have you ever thought about a sunroom? You can build a covered deck over anything you want to protect from the elements. 
The benefits of covered decks are myriad. They not only protect precious outdoor accoutrement from the elements, but expand your living space. They are great for entertaining, relaxing with your favorite book outside and even for working on your laptop if you are a remote worker and just want to be outside instead of cooped up all day indoors. 
Perfect Patios
You can get just as creative with a patio. The possibilities are endless. If you're budget-conscious, the least expensive way to go is with a concrete patio. The aggregates of concrete can be stone, gravel, sand or shells. Whatever you choose, the patio should be a logical continuation of your house.
Get creative with your patio, as you want it to be an outdoor escape. Try installing a wood-burning stove or paint the tiles a warm and inviting color. Get a firepit to go with your wood-burning stove. There's nothing better than warming up to a fire pit outside on a cool evening. 
Add some ambience by hanging lights,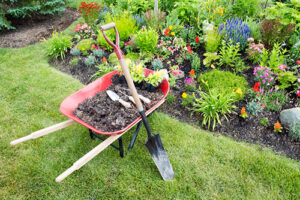 even those that twinkle. Light some candles to set a mood. If you really love being outside, take the inside out with you by hanging a projector so you can watch movies on your patio. If you prefer reading, create a reading nook on your patio. Even a small reading chair will fit on the smallest of patios. 
Splash some greenery around with potted plants. You can also hang some flowers or plant some flowers.
Additional Additions
You can create an outdoor oasis with more than just a patio and covered deck. Did you know you can also have a freestanding outdoor fireplace? Gourmets can even install an outdoor brick pizza oven. Put in an outdoor fountain, and build a path to it. 
Don't be afraid to get creative and use your imagination. Your outdoor oasis waits.