Flood Damage Cleanup Process
Natural disasters such as floods may make a homeowner feel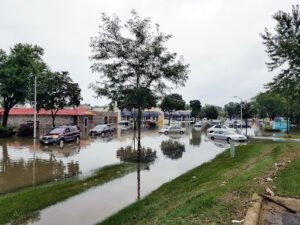 defenseless. However, there is something that makes them more powerless the threat of an exterior flood and the potential harm it might bring – the flood damage cleanup and bouncing back to everyday life. If your house or company has been flooded, you must take immediate action to limit the damages and try to make sure your house or other facilities are secure again.
This article will help you to understand what do you need to do if your house or other property gets struck by a flood:
Flood Damage Brings Various Health Hazards
It would be best if you kept in mind that flood damage brings various possible health dangers. Flood water, also classified as Black or Category 3 water, can include a variety of toxins; therefore, you need to hire professional flood damage restoration services. Additionally, make sure that you get in touch with the restoration company as soon as possible to start the flood damage cleanup and repair the damage quickly before it gets any worse and limit total harm.
Flood Damage Cleanup Process
After the flood has receded from your house or other facilities, an expert flood restoration service like 911 Restoration of Henderson can start the flood damage cleanup procedure. They will take the following steps to repair your property and make sure properly:
Drain out all the standing water and examine the damage caused by the floods.

Clean and discard all the furniture and belongings that they can no longer repair securely.

Disinfect and sanitize the structure to eliminate any possible chemical, environmental and microbiological pollutants left as floodwater residue.

Examine the structure for any structural problems that might pose a threat now or in the future.

Completely dehumidify and dry the property to ensure that no leftover water stays. If left unchecked, this contaminated water might result in severe damage, including mold growth.
We also advise you to contact an electrician, plumber, and gas engineer to ensure all your services are working correctly before residing back in your place. A flood can damage all the resources, and it is better to check them so you can be safe than sorry later.
What Can You Do to Minimize the Damage?
Prevention is far simpler than restoration. Before the flood occurs, ensure that you implement both short and long-term efforts to limit the danger of flood damage.
When your facility is flooded, you must act quickly to limit the long-term impacts of the flooding. The flood damage cleanup process includes decontaminating the facility so that it is safe for the restoration company to repair all the other damages.  Following a flood, there are numerous things you may do to reduce the risks:
If you get the flood alert sooner and have some time before it arrives, try your best to get any furniture and valuables off the ground. This will lessen the likelihood of their being destroyed irreversibly by floodwaters.

Ensure that everybody exits the premises and finds a safe place of refuge so that they are away from the severity and pollutants of the floodwater. It may contain black or category three water, which are very dangerous, and there's a good chance it'll make you sick.

Switch off the gas and electricity if you are sure you will not hurt yourself. You can reduce the risks of electric current in the groundwater and gas leakage and save many lives.

Ensure that you hire experts to work on your damaged property who are familiar with the harm that flood can bring to properties and those who have the equipment to complete thorough restoration and repair.

For long-term preparations, you can fix land grade or inclination, modify landscaping, create water barriers, and install new drainage systems
These measures will help you to minimize flood damage and ensure the flood damage cleanup process goes smoothly. Restoring your facility back to its former state and flood damage cleanup may be a lengthy and tough procedure; however, with the assistance of expert service, it is possible to get your house or company ready and functioning in no time.
After you are done with the disinfecting and drying phases of flood damage repair, it may be time to consider putting necessary precautions to prevent recurrent flooding. This can entail installing new drainage channels and waterproof coverings on the walls and floor, among other things. This sort of arrangement can be beneficial, but it will not help in protecting your house completely. But we can assure you that the damage will be lesser.
Conclusion
When coping with severe flood damage, the best and safest solution is always to seek expert assistance. Flood water may be harmful and inflict a massive amount of damage that is both evident and maybe not visible to the naked eye due to waste pollutants, probable contact with electricity, and many other hidden concerns. 
Your property requires sufficient drying, disinfection, and dehumidification to prevent additional harm. We recommend you hire a professional flood damage restoration service like 911 Restoration of Henderson to ensure your damaged property is in the right hands. If you reside in a flood-prone location, having flood insurance along with homeowners insurance may be quite beneficial.