Mold Removal in Henderson
Moisture that remains trapped under floorboards or other surfaces can be the breeding ground for a mold infestation.
That's where we come in.
At 911 restoration of las vegas, we're a nationwide restoration company that inspects and provides quality mold decontamination and mold removal services.
If mold is not addressed, this can lead to more structural damage and increase costs for your Henderson business or residential property.
It is important to protect yourself and others by reaching out to 911 Restoration of Henderson for 24/7 mold inspection and mold remediation in Henderson. Our mold decontamination technicians provide same day mold cleanup along with water and fire restoration Hendersonville nc, Boulder City, and Las Vegas.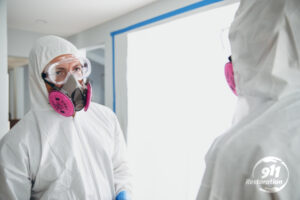 As a nationwide franchise committed to helping customers achieve a "Fresh Start," we strive to handle mold remediation safely and effectively.
Our IICRC certified technicians are trained in a variety of water damage restoration, smoke removal, sanitization, and full mold removal strategies to restore your home or commercial business following flooding or storms.
When disaster strikes, you want to reach out to a reliable and reputable same day restoration company that can safely address mold removal.
Your health and safety is important to us, which is why our mold cleanup crews work quickly to salvage items and extract moisture to prevent further damage. You can expect full transparency, communication, and compassion from our team of franchise owners and mold remediation technicians.
911 Restoration is a licensed, insured, and bonded company that provides quality mold removal in areas like Henderson, Las Vegas, and Boulder City.
We know a flooded basement, ceiling leak, toilet overflow, or mold infestation can cause a lot of stress and result in costly repairs. We are committed to keeping our costs lows and helping you navigate the insurance process with ease.
Don't hesitate to contact 911 Restoration of Henderson if you need mold removal in Henderson, Las Vegas, or Boulder City.
Removing Mold in Your Basement
As a flood company, we specialize in deep cleaning, sanitization, and quality mold remediation. Many Henderson residents and commercial owners may experience common disasters such as basement flooding las vegas nv, burst pipe, or sewage backup.
Whether you're dealing with the aftermath of a storm or burst pipe, finding a contractor that can handle all aspects of water damage restoration and mold removal can be difficult. Fortunately, 911 Restoration of Henderson offers full residential and commercial restoration so you don't have to hire a separate contractor for mold remediation.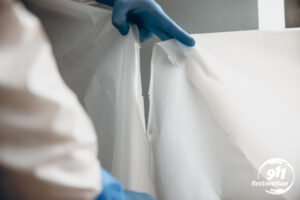 When you suspect a mold infestation, reach out to 911 Restoration. Our Henderson mold decontamination experts are trained to carefully and effectively extract moisture and provide mold removal. If you have carpet or floorboards, it's important to have a professional restoration company check for hidden mold.
We recommend getting mold inspection in Henderson, Las Vegas, our Boulder City as soon as possible.
Our mold remediation technicians thoroughly inspect every crevice to ensure that we do a quality mold removal job. After removing mold, our team uses professional grade equipment and dehumidifying techniques to dry and keep your space odor-free and sanitized.
We know how difficult it can be to find a reliable contractor that provides quality mold removal and water damage restoration. We're here to help.
Contact 911 Restoration of Henderson for mold inspection in Henderson, Las Vegas, and Boulder City.
Safe and Reliable Mold Remediation in Henderson
A mold infestation can wreak havoc on property, but it can also cost you your peace of mind.
Mold typically thrives in basements and can also eat away at wooden structures, wallpaper, and glue.
Mold that is not treated can cause allergies and even respiratory problems in some people. This is why it is crucial to reach out to skilled mold remediation technicians that can provide mold inspection and determine if you have an active mold infestation at your Henderson home or commercial property.
same day restorationBecause mold is dangerous to your health, it's in your best interest to call a certified mold removal professional. As a nationwide restoration franchise, we have the proper mold cleanup equipment to ensure no growth goes unaddressed.
Mold isn't always visible to the eye, which is why we use special tools and equipment to ensure that your space is properly sanitized and free from mold and odor.
As a "Fresh Start" company, we strive to provide excellent customer service and attentiveness to your mold remediation needs. Contact 911 Restoration of Henderson today for water damage restoration and mold cleanup in Henderson, Las Vegas, and Boulder City.
Serving the communities of Boulder City, Henderson, Las Vegas and surrounding areas.