How to Save Hardwood Floors from Mold
Mold is a common occurrence in homes. It can be a side effect of many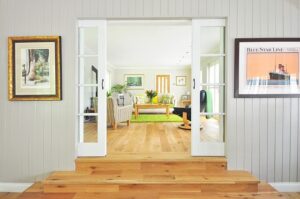 things especially water damage and fire damage. Mold can grow within 48-72 hours, and once it develops its roots, it can quickly spread to other parts of the house. All mold needs to grow is organic feed and a damp environment.
While hardwood floors are beautiful and durable, they can easily fall prey to mold. Mold underneath your hardwood floors is not only an expense but can have detrimental health effects on inhabitants as well. Therefore, it helps to know how to save hardwood floors from mold in homes.
Signs of Mold under Hardwood Floors
There are 1000 different kinds of mold in nature. Once mold spores find a suitable surface, they spread. Mold can eat away at organic materials like wood, which is why your flooring is most susceptible. Mold appears as green, grey or black fuzzy growth on the wood's surface.
While mold on top of the hardwood floor can easily be spotted, it may also grow underneath the hardwood floor. However, this can be spotted by the strong odor. Mold usually produces a pungent, musty smell. As a homeowner, if you spot this smell, especially after water damage, you need to act fast.
Start by examining areas that are prone to moisture. This includes looking under the carpet, below the sink, in kitchen cabinets and basements, where moisture could linger.
How to Save Hardwood Floors from Mold?
When you spot mold growth in your home using the above warning signals, you need to take immediate action. Since prevention is always better than cure, the first step is excavating the reason behind mold growth. Here are a few reasons why your home may be suffering from mold infestation.
Water Damage
Floods, pipe bursts and roof leaks can all lead to moisture seeping inside your home, in places you can't even spot. Even if you take care of the apparent destruction, it can be very hard to completely dry moisture all by yourself. This is why it is advised to entail home restoration after water damage. 911 Restoration takes ensures a thorough clean-up, from water extraction and dehumidifying to mold removal and remediation.
Humidity Levels
Even without the threat of disaster, mold can grow in homes if humidity levels are too high. Mold needs dark, damp and humid places to thrive. One preventative measure is to keep humidity levels low in your home, preferably at 50%.
However, if your hardwood floors have started showing signs of mold growth, here are a few ways in which you can help and recover them before they are beyond repair.
1.    Open Your Windows
Lack of ventilation is a serious cause of mold exacerbation. This is why you'll find mold growth in areas like the attic and basement. Open your windows so fresh air can circulate inside your home and dry out moisture. However, if it's too humid outside, then use a dehumidifier instead. The goal is to remove and limit moisture to mitigate further spread of mold.
2.    Use Vinegar to Clean Mold
Mold can release harmful toxins, so you'll need the right gear before you begin the cleaning process. Make sure you are wearing a facemask and gloves. Dilute 1 cup of white vinegar with 1 gallon of water and add some of this to an empty spray bottle. Spray some of this solution on the affected areas and use a paper towel to wipe the floor.
After you're done, you need to ensure the surface is as dry as possible. To guarantee this, use another paper towel to remove any moisture. You can even use a vacuum cleaner to get rid of any remnants.
3.    Apply Clean Bleach to Affected Areas
Even if it appears that all areas have been cleaned, mold can still be alive. Use 8:1 chlorine and bleach solution and let it sit on the affected areas for a few minutes. This will help get rid of any leftover spores, preventing and limiting further mold growth as well. Use a rag to remove the surface and dry out the area with fans or dehumidifiers.
4.    Use Professional Home Restoration Services
While the first 2 steps will take care of minor mold growth, extensive damage will require professional help. 911 Restoration ensures a detailed clean-up process that includes deep cleaning, sanitization and prevention of future mold growth.
It is best to entrust the job in the hands of reputable home restoration experts especially if you have a basement, attic, carpet or hardwood floors. The experts will analyze every crevice so moisture can't linger and wreak even more havoc than before. They then employ professional-grade equipment and techniques to dry out your space, remove mold and odor, and apply a coat for the prevention of mold growth in the future as well.
Seek Timely Help for Mold Removal in Henderson
You can avail of home restoration after water damage for professional mold removal and remediation services in Henderson. 911 Restoration provides 24/7 disaster restoration services in Henderson, which is susceptible to tropical storms and winds.
Since disasters can cause moisture to seep inside the home and create a breeding ground for mold, get in touch with a professional to manage and limit mold growth to save your expensive hardwood floors.